Colonel John Stevens gained the first railroad charter in North America to build the New Jersey Railroad Company in 1815, although it was never actually constructed until 1832. A major challenge in traversing long linear alignments is how to cross creeks and rivers.
According to American-Rails.com, one of the first railroad bridges to be built in the country is credited to the Baltimore & Ohio Railroad which constructed its Thomas Viaduct in 1835 located at Elkridge, Maryland over the Patapsco River. At the time of its construction this was the world's longest masonry bridge and the first curved structure of its kind. Even today it remains the largest bridge of its type and still carries regular freight and passenger trains to this day, a testament to the strength and longevity of not only its stone construction but also the masons who built it. (In 1840, the average locomotive weighed in at about 12,000 lbs. Today, arches are still structurally sound and many casually support modern locomotives that weigh in at approximately 412,000 lbs).
As the country and railroads were expanding westward, the first time a train entered Fort Worth was when the Texas & Pacific (or T&P) arrived July 19, 1876. This was near the beginning of what is commonly referred to as the "Golden Age of Railroading", 1880 to 1920, when railroads held virtually 100% of all interstate traffic, both passenger and freight (and before automobiles and airplanes began to displace the industry).
While working on a project near a section of a BNSF railway in north Fort Worth (between US 287 and Loop 820) our own Fort Worth ASCE Branch member John Levitt, P.E. recently captured the attached photos of a brick/masonry arch bridge located on Fossil Creek.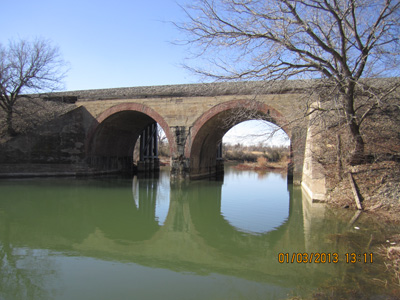 The inscription near the top of the bridge between the arches records that this bridge was built in 1909, just a few years before the nation experienced its peak railroad mileage in 1916 at over 254,000 miles. (Today, there are only about 160,000 miles of railroads in America).
Stone and masonry arch bridges are renowned for their overall beauty and extremely long life spans but they were also very expensive to build. Somewhat unfortunately for visual aesthetics, early railroads began engineering railroad bridges at first from wood and later from iron once it became available so as to keep expenses down. (Note the parallel steel bridge in the background of the photo).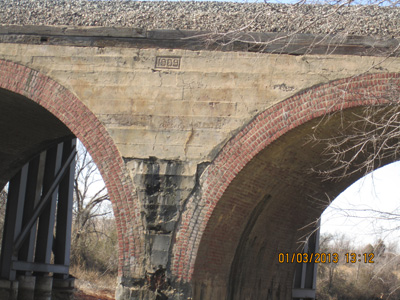 As we celebrate the Centennial of the Texas Section ASCE this year, I wonder if the infrastructure we are designing and building today will be observed with joy by engineers and citizens of the future when our second centennial rolls around. Certainly, over 104 years ago some of our predecessors designed and built this local bridge so that it would not only be functionally lastingly but would also be pleasing to behold during the Centennial Celebration of the Texas civil engineering society founded a few years after its completion.
- John P. Wier, P.E., R.P.L.S., Historical Chair, Fort Worth Branch ASCE, January 2013