I had an opportunity to visit Dubrovnik, Croatia in 2013. While there I observed one of the longest cable-stayed bridges in Europe. The Franjo Tudman Bridge, at the western approach to Dubrovnik, is 1,699 feet long between abutments and 47-feet wide. It consists of a single pylon tower reaching a height of 464-feet above its foundation, 19-pair of cable stays, and a variable depth pre-tensioned girder spanning 1,066 feet. The deck is 169-feet above the water of the Rijeka Dubrovacka near the port of Gruz on the Adriatic Sea.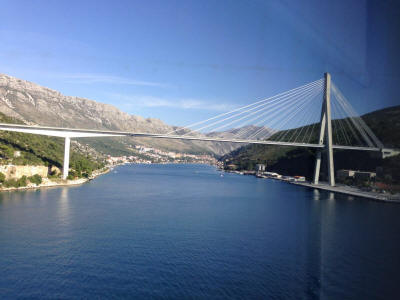 In researching the history of the bridge I learned of a unique challenge that affected its design and construction. Some civil engineers have periodically encountered this additional issue during other eras, and do even today in other parts of the world. Yes, we are accustomed to designing and constructing projects while recognizing the varying types of elements that affect a specific site (i.e. geotechnical/soil conditions, topographic and environmental conditions; differing codes/ordinances; weather conditions; permits, and politics as well as client budgetary and time of performance limitations).
Indeed strong winds and a high earthquake classification were factors affecting safety and construction methodology of this Croatian bridge and might not factor into most bridges in Texas. But while the land area of Texas is 12 times that of the Republic of Croatia, civil engineers and contractors undertaking projects located in Texas during the last 150+ years have not had to contend with this even additional challenge. The additional challenge affecting this bridge was......WAR!
Construction of the bridge began in 1989. Though the total "construction" time was 52 months, the bridge was not completed until 2002. What might have otherwise been a four year construction project turned into 13 years as a result of interruptions and delays caused by the Croatian War of Independence (1991-1995). Apparently, some redesign of the bridge was also necessary after construction was stopped at the outset of the war.
The war started when Croatia declared (and ultimately gained) its independence from Yugoslavia. A local guide leading a tour of the old walled city gave us a first-hand account of the life-threatening difficulties facing inhabitants of this beautiful city when water and food was cut off for three months beginning October 1, 1991 during the "siege of Dubrovnik".
The final cost of the bridge was reported to be $31 million (US) making it the most expensive bridge in all of Croatia. Despite the casualties, damages, and delays caused by the war, the bridge was at last completed and was not only serving people but was indeed beautiful to behold.
- John P. Wier, P.E., R.P.L.S., Historical Co-Chair, Fort Worth Branch ASCE, November 2016